Refined Capability Graces the New INFINITI QX50 at Bill Dodge Infiniti
The Infiniti brand of vehicles stands for quality, luxury, and refinement; you will find the best of all in our new Infiniti inventory at Bill Dodge Infiniti in Westbrook, ME. The new 2020 Infiniti QX50 four-door crossover SUV embodies this refinement in its graceful curves and high-tech features. Drivers can count on unique levels of variety, good looks, and thorough safety measures. We invite you to check out the new INFINITI XX50 here at Bill Dodge INFINITI and come see us in-person at 1 Saunders Way in Westbrook, ME.
2020 QX50 Trim Highlights
The 2020 Infiniti QX50 compact vehicle comes available in five separate trim levels with mixtures of options for colors, powertrains, and styles. Available trim levels of this midsize luxury crossover include:
Pure
Lux
Essential
Sensory
Autograph
Even though escalating trim levels offer a plethora of options, the brand is Infiniti and so even entry-level vehicles come equipped with high-end furnishings and features.
Head-Turning Exterior Looks
It almost goes without saying that the 2020 Infiniti QX50 is good looking, but these features are more than just skin deep. The sleek lines act to improve aerodynamic flow and also help stabilize the vehicle.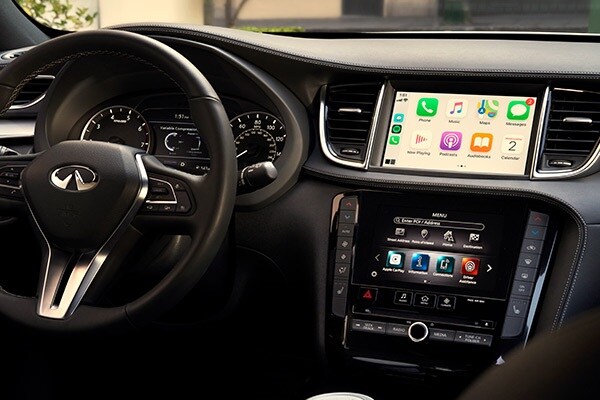 In addition to these functional aspects, the QX50 also has distinctive traditions such as Clamshell hood designs and Crescent Cut D-Pillars. Plus, it includes powerful I-LED headlights on the front and highly visible LED signal lights on the back and sides. As such, drivers of other vehicles can more easily see and avoid the QX50 in dark conditions.
Another useful feature is the available No-Hands lift gate. Now, operators can just wiggle a foot and expect quick access to capacious rear storage areas, with select trim levels.
A Comfortable and Welcoming Interior
The looks also extend to the interior. The QX50 includes an available panoramic sunroof that allows light in from almost every corner.
QX50's cockpit area is asymmetric and includes specially fashioned seats that tilt for greater visibility and comfort. High-resolution touch screens and other controls lie within easy driver reach, and heads-up displays post vital vehicle stats.
Tech Capabilities
Infiniti includes the specialized Pro-Pilot Assist system in its technology package for many trims of the 2020 QX50 crossover. It consists of a bundle of technologies that help drivers to maintain awareness in real-time; including Steering Assist and Intelligent Cruise Control with Full-Speed Range as well as Stop and Hold.
Other QX50 technologies help drivers to maintain control of their vehicles. The available Direct Adaptive Steering system does just that by using information from various sensors to improve driver steering and pedal reactions.
Passenger Safety
The QX50 applies a number of systems designed to help drivers see danger and act accordingly. The standard Blind Spot Warning and Intervention systems scan areas to the rear of the vehicle before lane changes. If the system sees a vehicle or other obstacle during a lane change, it can take control and move the QX50 back into proper orientation.
Another safety problem that often rears its head during poor weather and low visibility conditions is distance judgment. The Infiniti QX50 has this covered with its available Distance Control Assist technology which uses sensors to calculate safe travel speeds.
This extra set of virtual eyes can help drivers to avoid obstacles in fog and other dangerous situations. These eyes work hand-in-hand with the Intelligent Cruise Control system that keeps tabs on speed and can stop the vehicle when danger strikes.
Specialized Performance
Drivers of each trim level get to enjoy a specialized Infiniti motor. The new QX50 presents a unique, turbocharged four-cylinder motor. Called the VC-Turbo, this motor has the ability to change compression ratios in order to optimize performance and mileage. This capability rests on many individual features including active torque rod technology. This vibration dampening tool also improves engine balance and overall functioning.
Devotion to performance extends to the QX50 chassis and suspension. Engineers use high-tensile metals and unibody construction to create a safe, supportive, and stable foundation.
Check Out the New INFINITI QX50 Today
No matter which trim of the 2020 INFINITI QX50 you choose, you will find all of the hallmarks of the INFINITI brand brought in full on this luxurious midsize crossover. We invite you to schedule a test drive and come see us at Bill Dodge INFINITI to check out the new QX50 today up close and personal. See you soon!