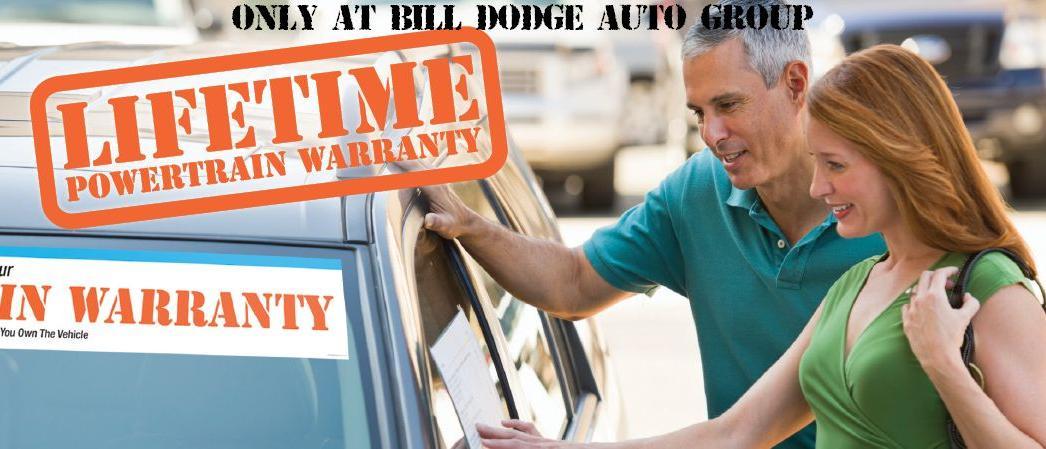 EXCLUSIVELY AT Bill Dodge Auto Group - PRE-OWNED CENTERS

PEACE OF MIND YOU CAN COUNT ON
Enjoy the peace of mind that comes with a Lifetime Powertrain Limited Warranty at Bill Dodge.
Protect the major components of your vehicle for as long as you own the vehicle.
Nationwide: This warranty is valid anywhere you choose to service the vehicle.
$0 deductible when serviced at Bill Dodge Locations -- May incur deductible at other service providers.
Most domestic and Asian makes and models are eligible
Administered by Protective, an industry leader that has been serving for over 50 years!
COVERAGE
Engine
Transmission
Drive Axle
Rental Car Reimbursement
Coverage is limited to the vehicle parts and other items described below:
Gasoline/Diesel Engine: all internal lubricated parts * engine block * cylinder head(s) exhaust manifold expansion plugs harmonic balancer
Intake manifold* mounts * oil pan (excluding drain plug related failures) * rotary engine rotor housing * timing belt/chain and tensioner * timing
Chain cover * valve cover(s) * water pump * electric coolant pump * electric oil pump * diesel accessory vacuum pump, lift pump, injectors and injector pump * manufacturer-installed turbocharger(s), bypass valve(s), blow-off valve(s), intercooler and waste gate(s) * manufacturer installed supercharger.
Transmission (Automatic, Continuous Variable (CVT), Standard and Transfer Case): all internal / internally lubricated parts * metal cooler lines
Mounts* throttle valve cable * torque convertor *flywheel/flexplate * transmission and transfer case housing * transmission cooler * oil pan
Vacuum modulator * external and internal control unit* automatic electronic clutches.
Drive Axle (Front/Rear/AWD/4 Wheel Drive): all internal lubricated parts within the drive/transaxle assembly and housing, including axles and
Axle bearings * constant velocity joints *drive shaft support *differential cover* hub bearings * front hub locking assemblies* drive shaft *universal joints* four wheel drive actuator.
Filters, Fluids, Lubricants and Taxes: filters, fluids, lubricants and taxes required to complete a Covered Repair for any Covered Part listed above.
Seals and Gaskets: Seals and gaskets for all Covered Parts listed above when subject to a Covered Repair.
ELIGIBILITY
Pre-Owned Vehicles: Current +6 model years with up to 75,000 odometer miles. Excludes certain models and hybrids. Excludes Wholesale Direct vehicles. See dealer for complete details.