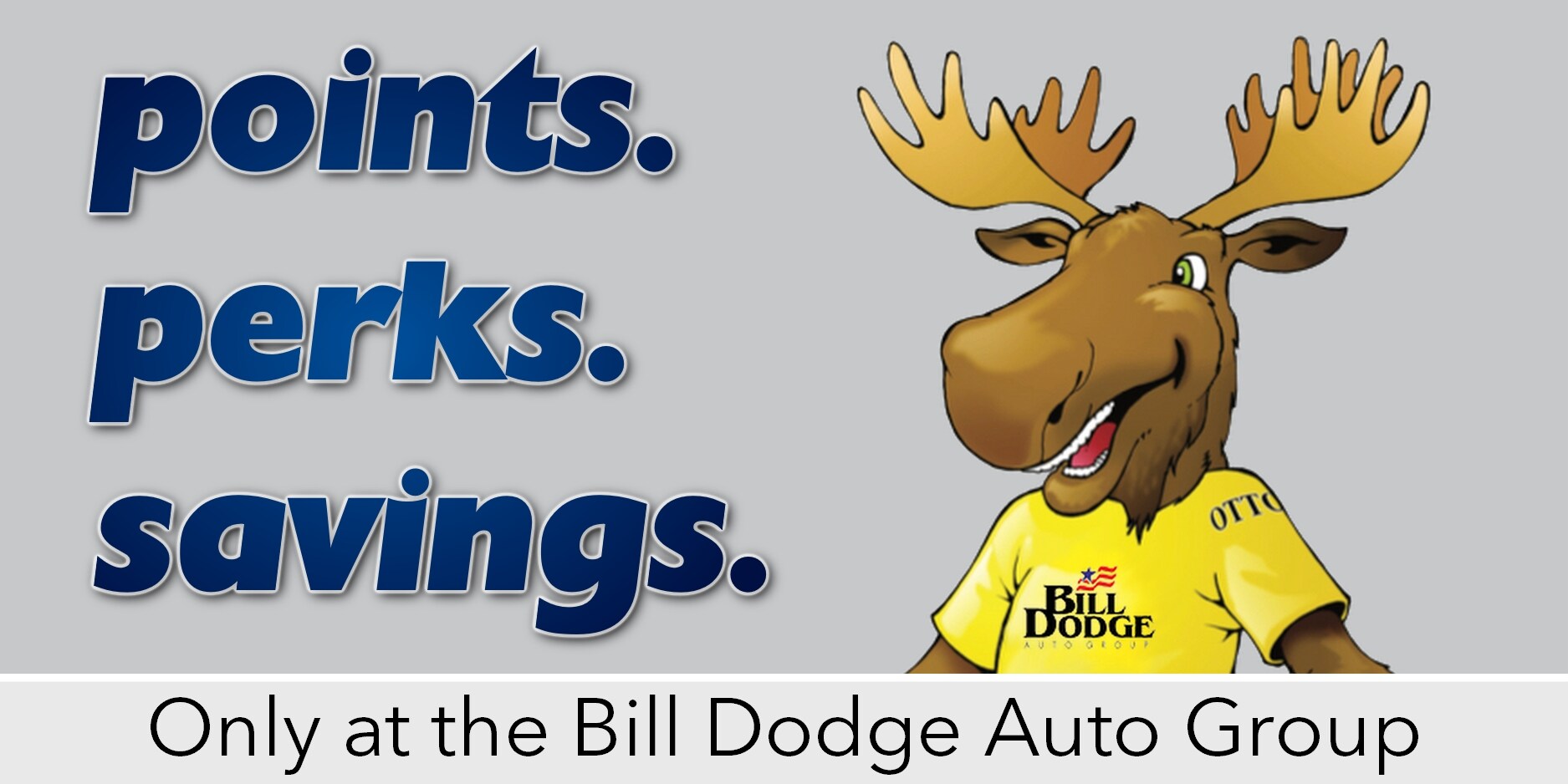 About the Rewards Program
No other dealership can offer - or match - what the Bill Dodge Auto Group delivers. Be prepared for an ownership experience packed with benefits and rewards that no other dealership can match. To ensure we exceed your expectations, we created the Bill Dodge Auto Group Rewards Program. Our Bill Dodge Vehicle Rewards membership is complimentary with every vehicle purchase and comes jam packed with valuable benefits reserved just for you. In addition, members are invited to enjoy added value and savings when they upgrade their membership to our Bill Dodge Platinum Elite Rewards Program. Not in the market for a new vehicle just yet? Now is the perfect time to join the Bill Dodge Service Rewards. Start earning money towards your next vehicle every time you get your vehicle serviced or make a purchase in our parts departments at any Bill Dodge Auto Group location. Regardless of the membership level you choose, remember to keep your key tag and card with you at all times. They are your keys to unlocking a world of exclusive benefits for members only.
Benefits include:
Our exclusive earnings program
Gift certificates for service, parts or accessories
Convenient service advantages
Valuable merchant discounts
And much more!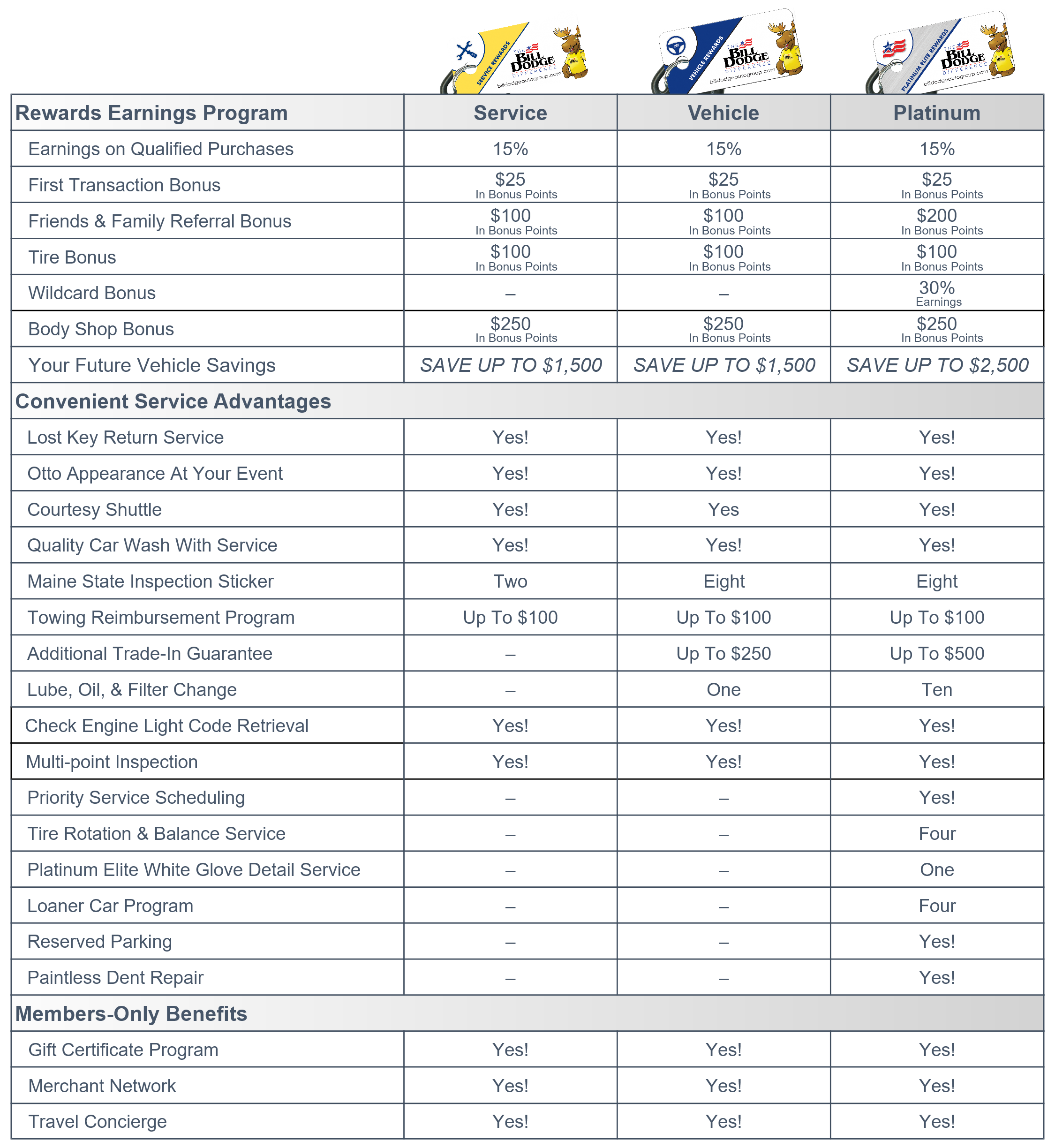 Lost Key Return Service

Keep your Bill Dodge Rewards membership key tag on your key ring at all times. If you lose your keys, instructions on your key tag will assist in their return. cost of replacement keys not covered if keys are not returned.

Courtesy Service Shuttle

Let us keep your day moving with our Courtesy Service Shuttle. Complimentary with any scheduled appointment. When you arrive, simply notify your service advisor.

Towing Reimbursement Program

Enjoy the peace of mind of towing protection valued at up to $100. Call our towing emergency line to schedule your vehicle's tow to the nearest Bill Dodge dealership. We will cover the expense of the tow up to $100 Value not to exceed $100.00. Must be towed to Bill Dodge dealership, and all work must be completed at Bill Dodge for reimbursement.

Earn Gift Certificates

As a Bill Dodge Rewards member, every time you earn points you qualify for future rewards. When a reward level is reached, you will automatically receive a gift certificate in the mail for use in our service departments, detail centers, collision centers, our parts, and accessory shops.

No points will be subtracted from your account for redeeming your certificates; they are simply our gifts for you to enjoy!


Points                                                    Gift Certificates
500 points  .......................................  $50 gift certificate
1,000 points  ....................................  $100 gift certificate
1,500 points  ....................................  White Glove Detail gift certificate

Otto Appearance at Your Event

Otto will come to your event, parade, or party for free. if you would like to book otto for your event, please visit billdodgeautogroup.com!

Quality Car Wash with Service

During any service visit, Bill Dodge Rewards members can receive our quality car wash service. Simply present your membership key tag or card to your service advisor upon arrival for your service appointment and request to receive our complimentary car wash service.

Additional Trade-in Guarantee

Bill Dodge rewards members who have performed all of their vehicles' service work at our dealership will receive at least $250 in Bonus points at time of trade in toward their next vehicle purchase from Bill Dodge. Platinum Elite Rewards members qualify for at least $500 in Bonus Points. See certificate for details.

Travel Concierge

Keep your Bill Dodge Rewards key tag or card in hand when planning your next travel excursion, and enjoy the savings and convenience of having your own private travel concierge without expensive membership fees or charges. Benefit from savings when you book your next flight, cruise, hotel stay, car rental, and anything in between.

1. Call travel Rewards by Options Travel toll free Monday through Friday 9:30 a.m. - 6:30 p.m. EST at 1-888-732-7291.
2. Inform your personal Travel Rewards Concierge of your desired destination and method of travel.
3. Notify your personal travel concierge that you are a member of the Bill Dodge Rewards program and let them do the work.
4. When you are ready to book, simply provide your personal travel concierge with a major credit card and your membership number located on the back of your Bill Dodge Rewards card.
5. Your Tickets and itinerary will be sent via e-mail or certified mail.

Local Merchant Discounts

Our merchant network is a group of local businesses that have partnered with the Bill Dodge Auto Group to offer our rewards members exclusive, everyday savings. Simply present your rewards key tag or card at the time of purchase to take advantage of our members-only discounts. Check out the Merchant List to view offers and start saving today!




Is your business interested in joining our Merchant Network or is there a local business you'd like to recommend? GREAT, we are always looking for businesses to help expand our network!

CLICK HERE

to refer a business and we'll contact them to discuss the details.
Friends and Family Referral Bonus
You'll receive bonus points every time a friend or family member you refer purchases a vehicle from our dealership.  Simply ask them to present one of the referral certificates inside your rewards coupon booklet (or print one below) prior to delivery.  You could earn up to $200 in bonus points for each referral!